Course Description
---
This course teaches about the Aging of America along with Aging and the Housing Industry - what already is and where trends are heading. Aging is inclusive of all ages and the industry needs to start seeing that in their design for residential and commercial environments. Specific inclusive design concepts including products and their placement are featured.
Course Objectives
---
Upon successful completion of this course, the participant will be able to:
Understand aging in place concepts - the ability to live in one's own home and community safely, independently, and comfortably, regardless of age, income, or ability level.

Describe inclusive design concepts regarding the safety and accessibility of specific kitchen and bathroom products and their placement including cabinet and counter heights, raised dishwashers, raised toilets, PT rails and tub cut outs.

Discuss universal design friendly remodeling solutions such as offset hinges, vertical platform lifts and stepless entry as well as stairway and path lighting options.

Recognize the importance of technology and a comprehensive "smart home" approach to support aging in place of all ages over time.
Instructor Bio
---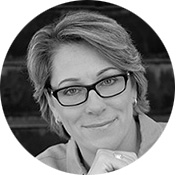 Valerie Jurik-Henry CAPS, CNHS, REALTOR
Valerie is the creator of The Ageless Home™, a professional national speaker on Aging In Place, Certified Aging in Place Specialist (CAPS), author, REALTOR and business advisor. With over 30 years of experience in housing and healthcare, she has a unique view when it comes to educating families, businesses, and industries about housing for every generation.
"People want to spend their lives in an environment that is familiar, comfortable and manageable." It all starts with the home design.
Valerie worked with the National Association of Home Builders providing webinars and conference presentations as well as being a speaker at The International Builders Show over the past few years. Being able to educate industry professionals as well as the consumer for better housing, is a priority of hers.
Valerie's brand, The Ageless Home™ is housing for all ages. Built on the Universal Design concept, The Ageless Home™ is a product for all ages, with any ability, at any height.
To embrace Agelessness is to understand the formula that 50% home + 50% of the story behind it = an epic product.
Other Approvals
---
Oregon Construction Contractors Board (CCB) - Commercial: AIA-J607GEN05
American Institute of Architects (AIA): J607GEN05